When I first met my husband and we became serious he told me about his Cystic Fibrosis and that we would have to have IVF if we ever wanted to have children. At the time I brushed this off and just thought that when it came to it things would be easy because the fertility issue was with him and not me. I realise now that was such a naïve mindset to have but I didn't know any different!

We got the ball rolling at the beginning of 2018 and the process started with me having a blood test to see if I was a carrier for CF. Luckily that test was all clear and we then started our very long journey which was nothing like I expected and I definitely wasn't prepared for what was to come. One of the worst things about IVF is the amount of time it takes to move from one stage to the next, and it doesn't matter how much you try to put it to the back of your mind it was just impossible.

Cameron had his sperm retrieval surgery in August 2019 after what felt forever being on a waiting list.The build up to this was an extremely worrying time as we didn't yet know whether we could have children that were biologically both of ours or if I would need a sperm donor.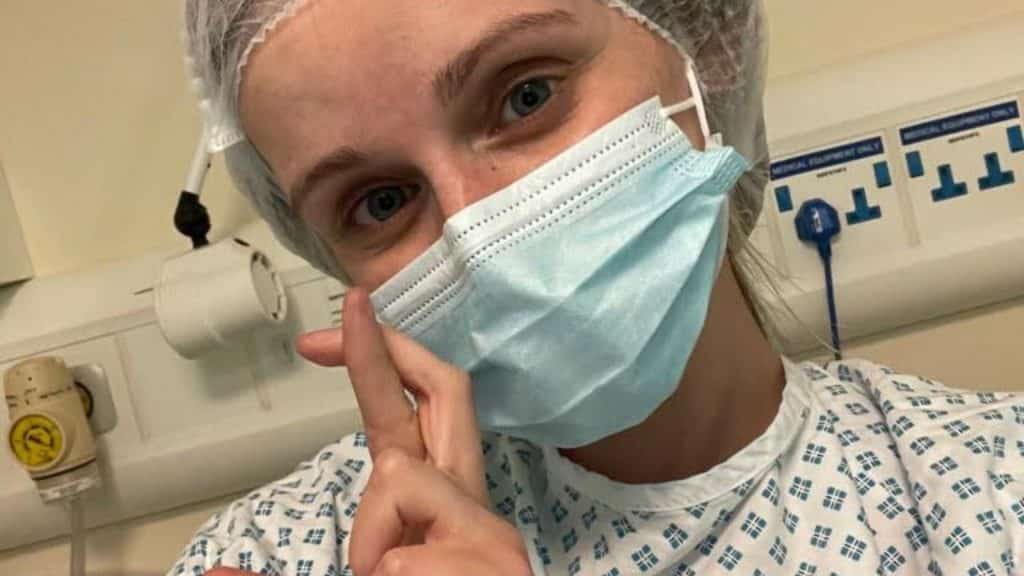 After the surgery we got the best news we could hope for and were told they had retrieved around six vials of healthy sperm meaning we could have IVF with ICSI treatment. We then postponed our treatment until after our wedding which was in October 2019 and looked to begin our first cycle at the start of 2020.
I became obsessed with prenatal vitamins, my diet, exercise, and got myself into quite an anxious state before starting. I was worried about drinking too much caffeine or alcohol even on our honeymoon and just felt like the impeding IVF cycle was all I could think about. We were given the go-ahead to start our first round of treatment in February 2020 but this was then delayed due to a scan revealing a cyst that hadn't previously been there. Whilst in discussion with the doctors about the next steps, we went into the first national lockdown and the cycle was cancelled with no definite date of resuming. I was absolutely crushed.

Once I was told that that the clinics were opening again in May I was so excited but that feeling of anxiety crept back in very quickly. I finally began my first round of treatment in the July and of course had to go to all appointments without my husband which made the process even harder.

The entire round of treatment was a lot more intense than I had expected – the drugs made me extremely bloated, tired and emotional. I was being told at my scans that my follicles weren't responding as they had hoped and I went into my egg collection feeling very nervous and negative. When I came round from the anaesthetic I was told they had retrieved eight eggs which I was pleasantly surprised at. However fast forward five days and only four eggs fertilised and only one embryo had made it. Even though I had all of my hopes pinned on this one transfer I knew the odds were stacked against us.

The two week wait was torture and I was googling my symptoms every hour of every day which I know you're not supposed to do but I just couldn't help it! I tried so hard to last the full 14 days but on day 13 me and my husband had a moment of weakness and tested the afternoon before our official test day. We did some first response tests and they showed a faint line. The clear blue showed negative however I thought this was down to it being the middle of the day and was clinging on to the fact that the first response showed a faint line -we both spent that evening thinking that I was pregnant.

The following morning came and I went to do my test genuinely thinking the clear blue would then show positive. When the words 'not pregnant' appeared on the digital screen I just felt sick. I told my husband and we were both just devastated and after speaking to the clinic we came to a joint conclusion that this had been a chemical pregnancy. I know for a fact that if we had more embryos left over at this point I would have found this much easier to accept.

We then had to go down the private route as even after appealing our case we were told we could not have another round on the NHS. I was so desperate to go again straight away but deep down I knew I needed some time to move on from this first round.

Fast forward three months and I had taken the time I needed to recover mentally and physically from the first round and we began our private treatment in the October 2020. We decided between us to not tell anyone about this second round as we were drawn to the idea of being able to surprise our families with the best news if it worked. I personally felt that involving family and lots of friends in the first round made it harder at times because they felt every emotion with me and it was hard to switch off from it. I felt so much more prepared, positive, and in control when it came to round two. They increased my dose for my injections and I had 16 eggs retrieved of which five healthy embryos were formed.

On the day of my transfer I was called in early to have an extra scan due to a concern regarding a build-up of fluid around my ovaries (suspected from the drugs) which they said had to have fully disappeared before they were happy to transfer. Those few seconds waiting to hear whether my transfer could go ahead were absolute torture and my husband had to sit in the car outside

After being reviewed by two doctors a decision was made that they were happy to go ahead. I literally skipped out of the clinic to tell my husband and I then returned an hour later for the transfer, trying to stay positive but realistic.
The two week wait was just as difficult as the first one however I did feel an element of reassurance that we had four embryos in the freezer if this didn't work. I just desperately wanted to see a positive pregnancy test and have all of this waiting and all of the treatment be worth it.

I nearly gave in a few times and wanted to test early but my husband kept me strong and insisted we waited the full two weeks to avoid any confusion like the first time. I knew he was right – if I was going to have another chemical pregnancy I really didn't want to see that faint line disappear to nothing again.

The morning of our test day came, I had barely slept and went into the bathroom shaking. My husband came in with me and as I laid the test on the side he got his phone out to put a timer on. Before he even pressed start on the timer we both saw the test flash up saying 'pregnant' at the exact same time and both let out a gasp. I will never forget that moment. Obviously we had the same concerns in the first 12 weeks that every pregnancy has and we just prayed and we just hoped that our miracle was here to stay.

We had a heartbeat scan at seven weeks and that was the start of this sinking in for me. We went to Window to the Womb Leeds for a private gender scan at 16 weeks and then again a few weeks later for a well-being scan and the service is just incredible. To see our baby up on the big screen with the music playing and my husband able to sit next to me and hold my hand after a three year journey of never knowing whether that moment will happen – it's just indescribable.
I know that our experience with IVF has been lucky compared to others but hopefully this will help couples to remain positive when it doesn't always go as smoothly as you would hope or expect.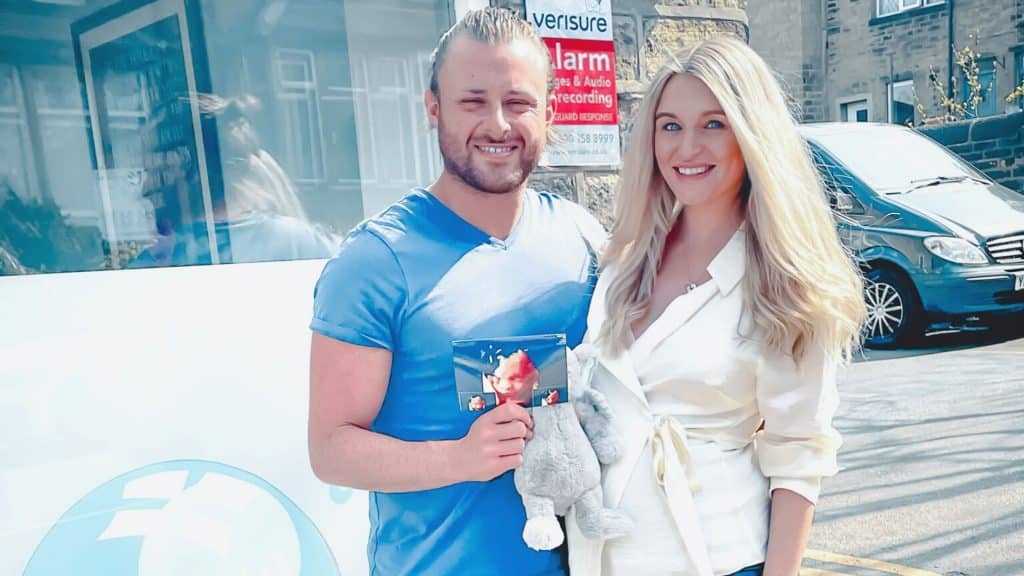 We can not wait to meet our miracle baby boy in July 2021!
Heather and Cameron – 29, based in Leeds