When I found out I was pregnant I had a long 7 weeks wait until my first scan at 12 weeks pregnant. I spent the 7 weeks throwing up multiple times a day, nursing a headache and napping on the sofa between clients. All with absolutely no idea that inside me I was growing 3 little babies.
My first scan was a shock to say the least, I screamed and cried and said to my partner 'I don't know what to do with one, what am I going to do with three!'.
We spent the rest of my 28 week pregnancy going back and forth to London UCLH every fortnight and having midwife checks weekly, all during the height of the coronavirus pandemic. We were immediately told of all the risks that came with carrying triplets who shared a placenta, I spent my whole pregnancy anxious about the thought of going into preterm labour. I was given a goal of 32 weeks to reach but as the date came closer there was talks of maybe changing that to 30 weeks. Before we knew it I went into labour naturally at 28 weeks and delivered our 3 miracle babies via an emergency c section. They weighed a tiny 2lb, 2lb1 and 2lb7.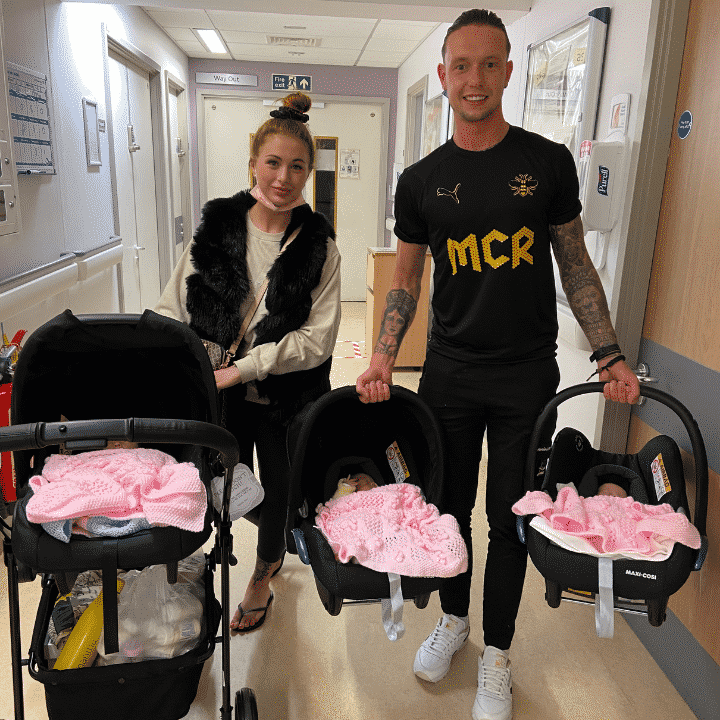 I briefly got to look at Ivy in her incubator before all 3 were taken off to the neonatal care where they stayed for 9 weeks before they could be discharged to come home. Our NICU journey was fairly uneventful compared to how it could have been considering how early they were. Exactly 2 months after their birth date they were discharged to come home and our time as a family of 5 had finally begun.
The first couple months of being at home as a family of 5 is honestly a bit of a blur, the feeding took forever, we got hardly any sleep and were literally just surviving.
We now have 3 perfectly healthy 9 month old girls who are thriving.
I went into my experience of becoming a mum to triplets an absolute nervous wreck, all I could think about was how am I going to cope but I honestly believe you would not have been given the challenge of being a triplet parent if you wasn't strong enough for it!
As challenging as having triplets is it has been the best experience watching our 3 babies grow, watching them starting to get their unique personalities and watching them interact with each other not knowing that they've already got their best friends for life.
Our girls are the best thing that's ever happened to us and has filled a part of our lives that we didn't know was missing.- @thegraytriplets