We love sharing your stories. Behind every scan is a family experiencing a unique journey to parenthood. Sarah and Laura recently visited Window to the Womb Bournville for their Gender + Well-being scan. They shared with us their journey to becoming parents as part of the LGBTQ+ community.
Hi! My name is Laura – I'm an American living in Birmingham, UK with my wife, Sarah, our toddler, Annabelle, and our cockapoo dog, Bisbee. We love to explore, adventure, travel (when it's safe to do so!), bake and dance together as a family.
Sarah and I met in London 13 years ago, and have been married for 7 years. We were actually the first female couple to be married in the City of Westminster, in London, when same-sex marriage was legalised in 2014!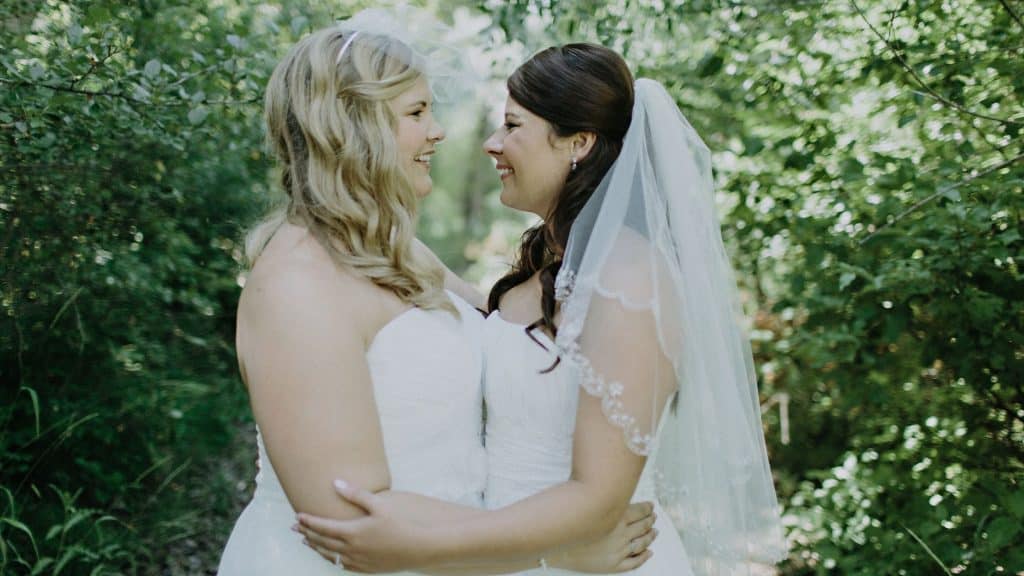 We moved to Birmingham from London so we could have space to get a dog, and to grow our family…
Sarah went through In Vitro Fertilisation (IVF) in 2017 to conceive our daughter. We were so lucky, that it worked first time! Sarah had a wonderfully smooth pregnancy, and Annabelle was born in July 2018. We froze her other three embryos.
Early 2020, we decided we'd like to give Annabelle a sibling, and it was my turn to carry! I first lost 5 stone so I'd be able to go through fertility treatment. That in itself seemed like such a feat, I still can't believe I managed it!
When we went to the clinic to have my fertility checked, we were really suprised to find that I have an extremely low egg count and AMH level. The consultant said it would be difficult for me to have a successful IVF cycle with my own eggs. I was really upset by this, mostly as I'd just lost my Mum a few months before, and mourned the loss of possibly seeing her in this baby (I'm a spitting image of my Mum!).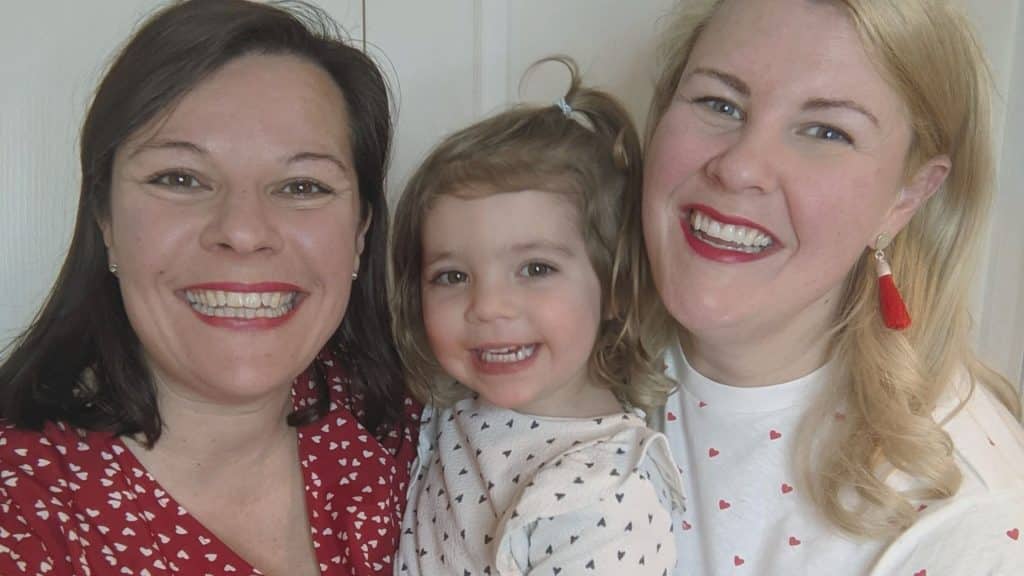 The consultant suggested that we try doing a Frozen Embryo Transfer (FET) using Sarah's frozen embryos from her 2017 cycle. We thought this was a great idea, especially as our Annabelle is so incredible, why wouldn't we want another one with the same genetic makeup? I remembered quickly that Annabelle is just as much mine as she is Sarah's, and ultimately genetics don't matter much when making a family. Annabelle even has a bit of an American accent, despite living in Birmingham her whole life! (Though I imagine this will quickly change when she goes to school!)
We had our first FET in August 2020, as soon as the clinics opened up after the Covid shut down. We were extatic to find that I was pregnant! We couldn't believe it, that our second baby was growing inside me.
Very sadly, at 8 weeks pregnant, we found out that I'd had a 'missed miscarriage' – the baby (nicknamed Emby) had stopped growing at about 6.5 weeks. It was such a shock because we had no inkling, no warning signs – I had morning sickness, quite badly actually, which continued for about two weeks until I miscarried the baby. I remember feeling how unfair it was, to feel so awful for no good reason. We were both heartbroken to have lost the baby, and I felt like my body had betrayed me, even though logically I know it was nothing I did, just one of those terrible things.
We tried again as soon as possible, to avoid getting any more anxious than we would already be, in November 2020. Unfortunately this try didn't take, and I entered 2021 still without a baby growing.
We had one more frozen embryo left. One last try for Baby #2…
In January, we used our last frozen embryo. Nine days into our two week wait, I started to bleed. We thought it was over – but just so we knew for sure, Sarah ran to a shop at 1:30am to get a pregnancy test. To our amazement, it was positive! I was pregnant once again. We were happy, but felt very nervous.
I had bleeding, mostly brown spotting but also some red, on and off for the first nine weeks of my pregnancy. Every time, I was immediately fearing the worst – it felt like after my first pregnancy experience, and all this trouble I was having, that there was no way baby was going to stick around.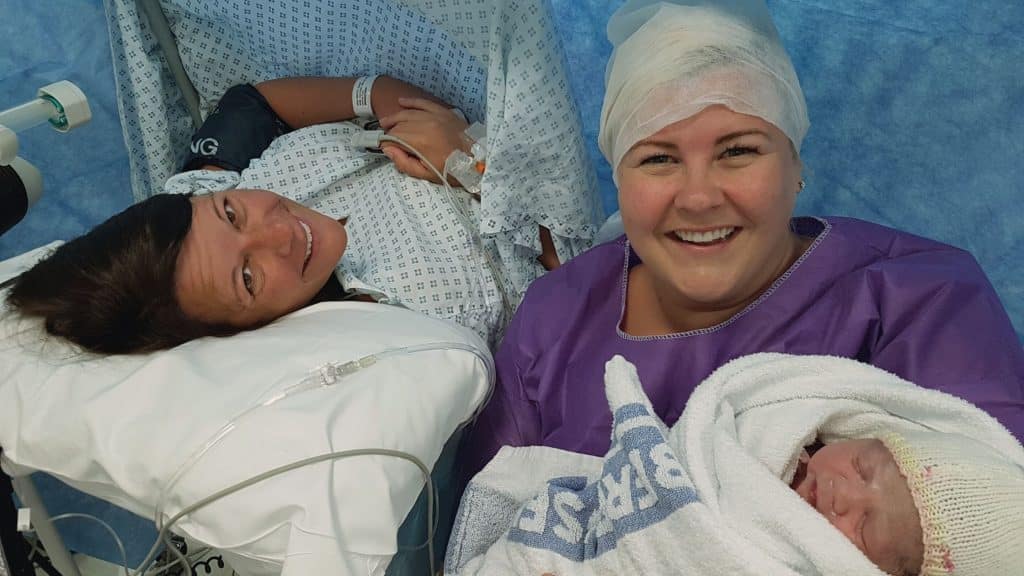 We had a few private scans to reassure ourselves, and I was so anxious every time – but every time, baby (Sweet Pea, as we've nicknamed them) proved us wrong. They were growing perfectly.
By the time I was 12 weeks pregnant, the bleeding had stopped, I'd started to get a little bit of a bump, and I was feeling more hopeful that things will turn out okay. At 13.5 weeks I started to feel little flutters – super early, especially for a first baby, but it was incredibly reassuring!
So as we got towards 16 weeks, we started to wonder what we were having! We found out that Annabelle was a girl at our 20 week scan, and the pregnancy felt much more real to us afterwards. Not that knowing her sex is female changed much necessarily, but having that small bit of information about the being growing inside Sarah humanised her a bit and made the fact that we were having a baby feel less abstract.
With my miscarriage, one of the things I found hardest was not knowing the sex of the baby – I can't just name them and compartmentalise them as part of our family in the same way, if that makes sense. So there was no question that we wanted to find out the sex of this baby as soon as possible.
We were so torn on what we were having – I thought a boy, Sarah swung wildly between boy and girl, and Annabelle said it was a girl – and there was no telling her any different! We were surprised at how many people assumed we'd want a boy this time. There wasn't as much 'What are you hoping for?' instead there was more 'So you're wanting a boy this time, right?' When actually, genuinely, we didn't mind! We've loved having a girl and would adore having another, not to mention we wouldn't have to buy anything new – and I loved having a little brother, so I'm sure Annabelle would too, so there wasn't really a 'lose' for us.
And anyway, as much as we will know the sex of the baby in the pregnancy, we of course won't know the gender for sure until baby is old enough to tell us how they identify themselves!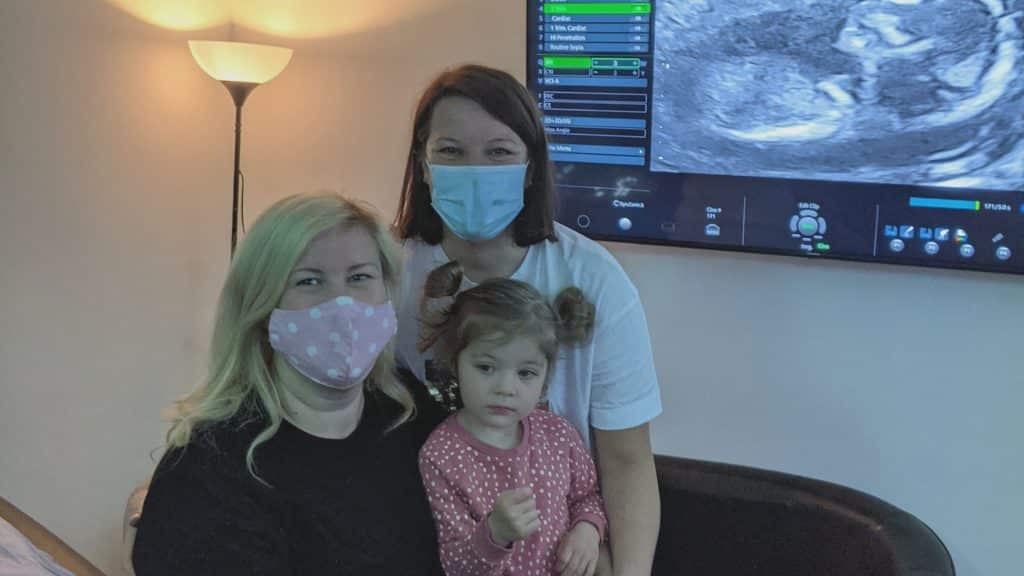 When Window to the Womb Bournville invited us to have a scan to find out the sex of the baby at their new location in Cotteridge, just down the road from us, we jumped at the opportunity. The clinic is beautiful, the staff were so friendly and lovely (and forgiving of our wild toddler running around as we tried to stop her touching things!). The sonographer showed us in depth so much of the baby, from their stomach, two sides of the brain, all their limbs and we loved watching them wiggle and jump around in there.
Annabelle was in awe listening to her baby sibling's heartbeat, that was definitely her favourite bit.
We found out that we are having….. a girl! Annabelle was right after all, and as a two Mum family, with a female dog too, we officially have 5 girls living in our household. Watch out world, for the Smith Girl Gang!
So now I'm halfway through my pregnancy, and we can't wait to meet our little girl in October. She was our last chance, the little embryo that could, and we couldn't be more grateful.
We'd like to thank Sarah, Laura, Annabelle and Bisbee for sharing their journey with us. We'd also like to thank them for joining us at our Bournville clinic. You can follow their journey on Instagram here.
If you'd like to book a scan with us, take a look at our packages & prices. Have a story to share? Message our team.