Rose & Gemma's Journey to Motherhood
At Window to the Womb, we love to hear about your pregnancy journeys, and when Rose & Gemma got in touch about their decision to expand their family, getting pregnant through sperm donor, and their scan experience at our Exeter clinic – we just had to share their story with you.
Getting Pregnant as a Same-Sex Couple…
Rose and Gemma met just under 3 years ago, and have a daughter together through a previous relationship. They chose to expand their family, which as a same-sex couple…can be a difficult decision. They decided not to go via the sperm bank route, but rather through a sperm donor; sourcing a donor based on ethnicity, location and aesthetic. Rose & Gemma wanted it kept privately, and to ensure the process was as simple as possible.
"We're a modern family. Two mums, a daughter and a bump. To us and the LGBT community this is the growing norm, but to some this is still viewed as unconventional. As you can imagine, the choice to expand our family doesn't happen easily nor does it happen by accident!"
They were very lucky to get pregnant on the first attempt, but sadly, Rose miscarried at 6 weeks and they were heartbroken. They were determined, and this didn't stop them trying again; so after extensive research and just two weeks later (at the most fertile point) they were pregnant once more.
(Read about dealing with miscarriage here)
"Low and behold…I was pregnant again! We could hardly believe our luck!"
Rose's Pregnancy So Far…
They've experience a few hiccups along the way including bleeding and pain and with their previous loss 'emotions have been high'.
"With each scan I've found myself nervous for at least a week before, then relieved when baby was on the screen wriggling and healthy!"
When it comes to pregnancy symptoms, Rose has experienced cravings, food aversions and nausea – so has counted herself 'lucky'. She found herself feeling extreme exhaustion early on in the pregnancy up to the second trimester, which she described as 'the most testing' as she usually has lots of energy!
(Read about first trimester, symptoms and more here)
"In the second trimester my energy levels returned but it was my emotional state that became the next testing symptom! The most simplest of things…such as having chicken for dinner – has reduced me to tears!"
Rose, now in her third trimester and with a month to go – is finding herself experiencing some of the symptoms to go with it. This includes sleep deprivation and now baby is bigger and putting pressure on the bladder: non-stop peeing!
Scan Experience at Our Exeter Clinic
Rose, Gemma, their daughter & bump joined us at our
Exeter
clinic for a
well-being + 4D scan
and it was truly a pleasure to welcome them. They took away a diagnostic well-being report, scan movie, photo prints, all digital images through our
Bumpies app
& more.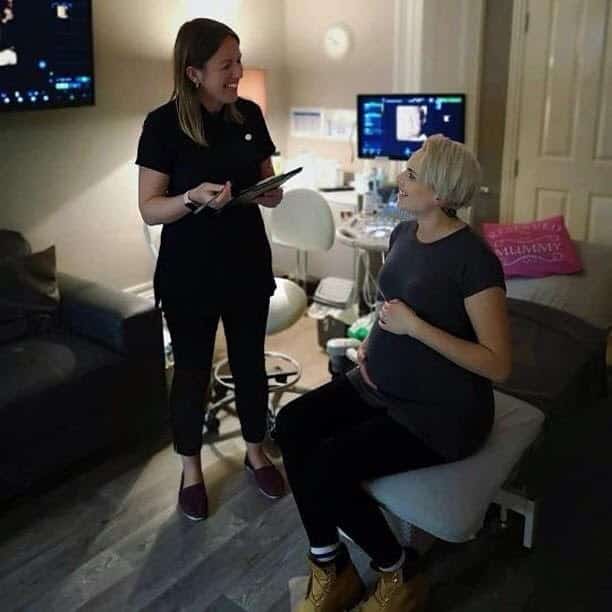 Amy, Our Exeter Clinic Manager and Rose in the Scan Room
"It was a pleasure to welcome Rosie, Gemma and their daughter to our clinic so they could have their full well-being check and see their baby in 4D. It was so lovely to be able to share the experience with them. Despite baby not being in the best of positions at first, after a walk we were able to achieve some fabulous images and we're pleased they enjoyed their experience and felt so welcome. We're excited to see photos of baby when they're born!" – Amy, Exeter Clinic Manager
Baby is as cute as a button!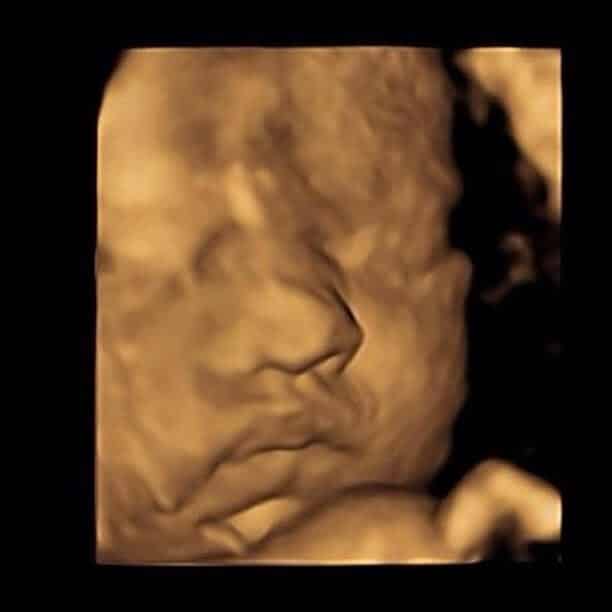 Thank you again to Rose & Gemma for sharing their story and we wish you all the best for the rest of your pregnancy. Do you have a pregnancy story to share? Get in
touch
.
You can also find further information on LGBT parenthood and the routes you can take
here
.