Leah & Jordan's 4D Baby Scan Experience
My partner and I visited Window to the Womb Doncaster on Saturday 11th February with our families – everyone was so excited to find out whether we were Team Pink or Team Blue! We chose the well-being + gender scan package.
Approaching the clinic, we entered a country park hosting the 20th century, picturesque St. Catherine's Hospital. The clinic itself is a very large, red brick building with lots of signage so you really couldn't miss it! It helped knowing we were in the right place as we don't really know Doncaster that well!
"The scan was amazing. It was so clear"
As we entered, we were greeted by the lovely staff members in a light, bright and airy room. There are pictures on the wall of scans that have been completed and there are items dotted around that we could purchase if we had wanted. The lady at the desk, Amy, gave me a form to complete with my name, due date and date of birth and asked me to take a seat. This form later went into the scan with us and was filled out with details about what position baby is in and where my placenta is. I was given a copy of it to take away with me.
The waiting room has large sofas for everyone and a children's play area, which my niece loved!
We were then taken through to the scan room, which actually felt more like we were being taken into a spa! Again, there was a large sofa for our families and there were 3 huge televisions so everyone could see what was going on. I have a naughty baby so I had to turn either way on the bed, but it didn't matter because I could see a screen at both sides.
The scan was amazing. It was so clear. First, we were shown baby's little heart beating and they let us hear it. The Sonographer then had a look between baby's legs to have a peep at what gender baby is. We are having a little girl! It was so emotional to have our families there at that moment – seeing my mum burst into tears was the icing on the cake – she never cries! We got to see baby in 4D which was incredible. Although baby is so small, we could see her tiny nose and fingers! There are no words to describe the feeling that scan gave us.
"We are having a little girl!"
Following the scan, we got to choose our photos and any extras we wanted. We opted for some seriously cute little pink booties and a Heartbeat Bear. They recorded baby's heartbeat for us and put it in a fluffy elephant so we could take it away with us and listen to it whenever we like!
The whole experience was wonderful. I cannot put into words how much the whole thing meant to all of us! Our families are still saying how stunning the place was and how non-clinical it all felt. It was a day we will all remember forever, and honestly, you can't put a price on that!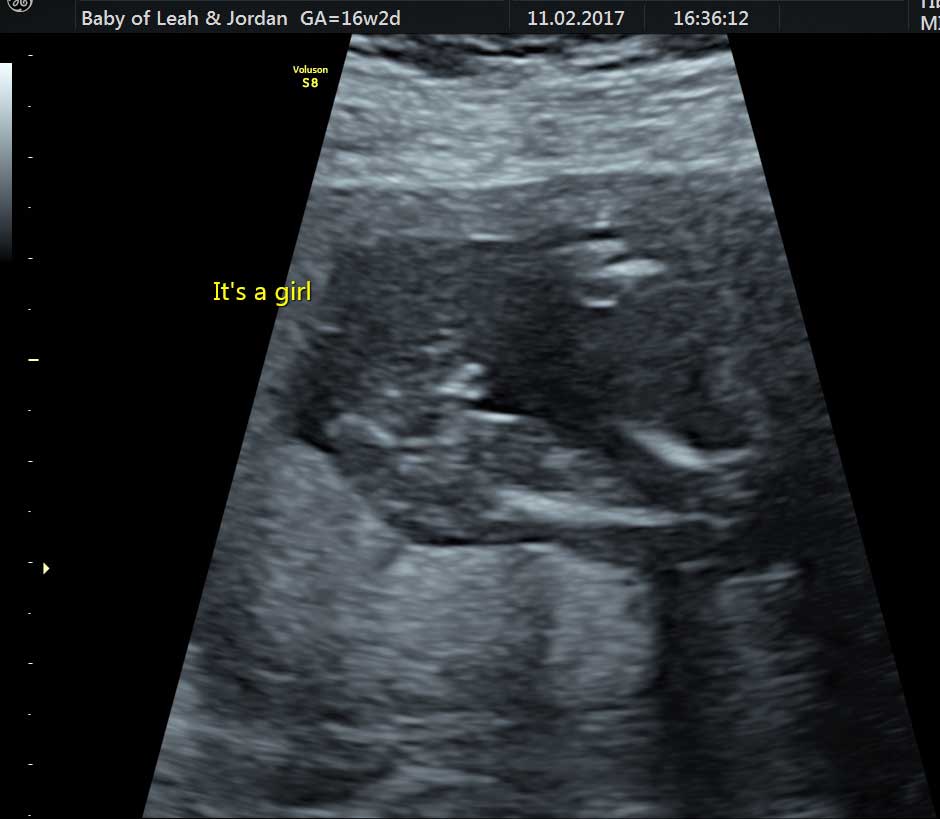 Congratulations Leah & Jordan! All Our Love Team Window to the Womb xXx