Gloucester Baby Scan Clinic
Private Baby Scans from 6-42 Weeks
Important Covid-19 Announcement
All of our scans are completed primarily for the health and well-being of our patients. As such all scans are completed for a medical need. We are working to understand the new government guidance issued 23.03.2020. 
These are unprecedented times, all extras included in a scan (such as the 4D imaging element) will now not be included in your scan to protect you and our staff.
To continue to provide a medical service the core medical elements of all of our scan appointments will continue. You will be provided with a full medical report as normal. Any scans that have been booked that include 4D imaging will now be changed to our well-being scan only (automatically) and the price will be changed accordingly.
We are aware the NHS are under unprecedented pressure and want to ensure all pregnant women have access to diagnostic ultrasound services to continue to monitor their pregnancy safely.
Window to the Womb and firstScan are working with a number of NHS trusts to support core obstetric ultrasound services, providing relief to hospitals wherever possible. If we can offer this service to you, you will be notified by your antenatal care provider. We cannot take direct bookings for NHS scans as this is on a hospital by hospital basis and would need to be booked directly by them.
You, alongside our amazing colleagues, are our primary concern and we will do whatever we can to help in these difficult times.
It is vitally important that you attend any appointment with only one adult guest. For everybody's safety, we will be enforcing this in all clinics.
To ensure our Mums continue to receive additional pregnancy reassurance, we are offering a Fetal Health Check scan. This is available from 16-42 weeks and includes a fetal health check, report, digital images, growth checks (from 20 weeks), estimated weight (from 26 weeks) and gender confirmation if required. Please note that this supports your NHS 12 & 20 week anomaly scans and does not replace them.
---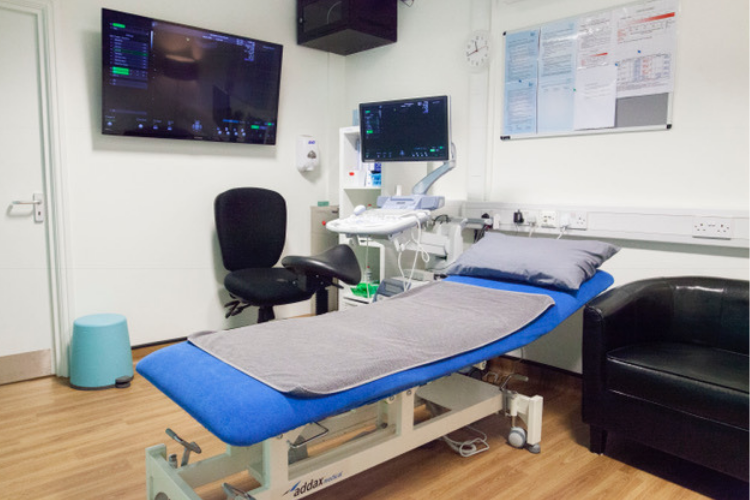 Welcome to our Gloucester Baby Scan Clinic
Our ultrasound baby scan clinic is located on Church street in Barton St, Gloucester and is easily accessible by car or public transport.
Window to the Womb in Gloucester specialise in providing early pregnancy, Well-being, 99.9% accurate gender scans and amazing 4D baby scans in our comfortable ultrasound clinic. We are now delighted to be able to offer our unique ultrasound baby scanning services to mums-to-be and their families from Wotton, Tredworth, Barton and Tredworth, Hempsted and surrounding areas - we have only mentioned a few but everyone is welcome. At our Gloucester baby scan clinic, you can now experience a Window to the Womb well-being, gender scan or 4D scan for yourself. We are the leading baby scan clinic in the area to offer expectant parents the opportunity to experience the very latest technology which will give you a truly amazing view into your baby's protected world.
Our range of early, well-being, gender scans, 3D scans, 4D and HD scans are designed to fit into the various stages of your pregnancy; our well-being scans start at just £55 and we can tell you the gender of your baby from 16 weeks, a full 4 weeks before your 20-week hospital scan! From 24 weeks mums can experience one of our 4D scan packages which start at just £99. Many of our ultrasound scan packages include digital videos and photos of baby.
All of our baby scan packages start with a well-being check of baby; our fully qualified & registered sonographers will check movement, heartbeat baby position, and placental position.
Our Gloucester baby scan clinic has loads of room for you to bring friends or family with you to share this wonderful experience. Raheema and her team are looking forward to welcoming you, your family and of course your bump to our Gloucester baby scan clinic and having the privilege of introducing you all to your baby.
*Our Gloucester clinic has disabled access.