Pregnant In The Snow? Our Top 5 Tips For Staying Safe.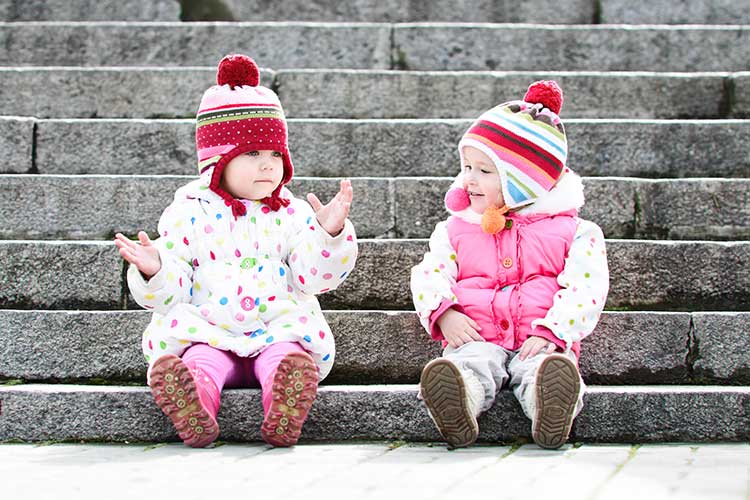 Please make sure you keep yourselves safe this week! Here are our top tips including advice from the NHS, the RAC and more to make sure all our pregnant mums stay healthy and safe.
1. Keep Your Home Warm
As you're pregnant it is really important to heat your home to at least 18C (65F).
Keep your bedroom at 18C all night if you can – and keep the bedroom window closed.
During the day you may prefer your living room to be slightly warmer than 18C, but make sure you don't overheat.
If you have a newborn it is really important to to reduce the risk of sudden infant death syndrome (SIDS), babies should sleep in rooms heated to between 16C and 20C
Draw curtains at dusk and keep doors closed to block out draughts.
2. Make Sure You Keep Warm
Wear several layers of clothes rather than one chunky layer – clothes made from cotton, wool or fleecy fibres help to maintain body heat.
Make sure you don't overheat, it is best to wear layers that can be quickly added and removed.
Try to warm your surroundings using heating or a fire, avoid direct heat such as a water bottle or electric blanket.
Have at least one hot meal a day – eating regularly helps keep you warm; and make sure you have hot drinks regularly, although watch your caffeine intake!
Try not to sit still for more than an hour or so indoors – get up and stretch your legs.
Stay active – gentle exercise can help keep you warm
Wrap a scarf loosely around your mouth when outdoors – add a hat and wear shoes with a good grip, too. The best advice while you are pregnant is stay indoors during very cold weather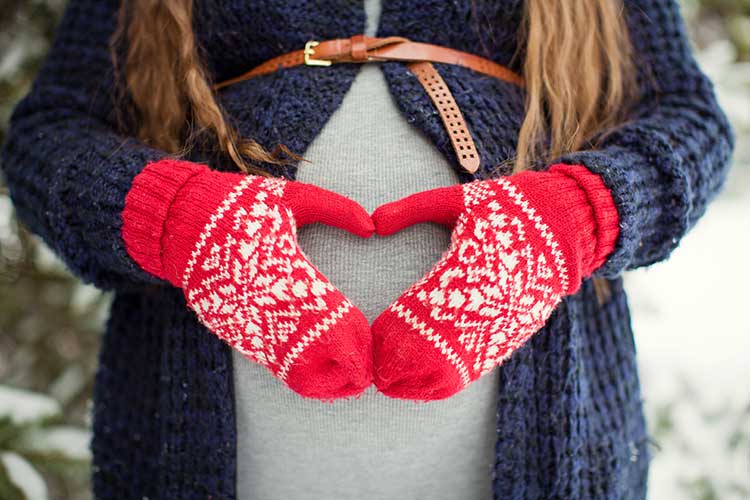 3. Stay Up To Date With The Weather & Travel
Keep an eye on www.metoffice.gov.uk/ to make sure you are up to date with the latest weather conditions and forecast.
It is best to avoid all travel during snowy and icy conditions. If you have an appointment with a private clinic, your GP or midwife, give them a call to see if they're open, what their best advice is and whether you should attend.
4. Don't Drive Unless You Absolutely Have To
Snow and ice make driving conditions extremely dangerous. Even if you or your nominated driver are (or think they are) a driving expert it is best to avoid travel. Other drivers may take the risk and could put you in harms way! If you must travel make sure you plan ahead
Plan your journey. Before you set off, plan your journey carefully. Use the RAC Route Planner to get updates on traffic news to help make your journey as smooth as possible. Consider areas that are going to be exposed to the elements, and perhaps prone to flooding. Keep up-to-date with local weather to ensure you aren't caught out.
Leave more time. Allow for more time than you normally would before you leave to clear car windows, mirrors, lights and the top of your roof of snow before setting off, driving with snow on you car could result in you breaking the law. You will also need to de-ice your windscreen entirely. You will need to take time to clear the inside of your windscreen too as it is illegal to drive without full visibility through all of your windows. It's also a good idea to carry a lock de-icer with you to clear your lock. If your locks do get frozen, try warming the key or spraying de-icer or an oil-based lubricant into the lock.
Check your wipers. Make sure any auto wiper control is switched off before turning the ignition on as this could blow the wiper control fuse if they are frozen to the screen. Your wipers need to be in good working order so you're able to clean your windscreen effectively.
Check your tyres. Check tyres for adequate tread. Poor tyres will not grip when driving on snow and ice. If you live in an area where snow is common it might be worth changing to winter tyres with deeper tread. If conditions are really bad you might want to consider the use of snow socks or even snow chains.
Check you screenwash. Use a good quality screenwash that protects down to at least -35 to prevent the water from freezing. If you don't, your windscreen wipers could be rendered useless in extreme conditions.
Pack for the worst. Be prepared for every eventuality by ensuring that your car is equipped with the following: demisting pad, torch (wind-up so you don't run out of battery), a hi-vis vest to make you visible if you break down, a blanket to keep you warm, some food, a drink, spare screenwash, de-icer, ice scraper, blanket, shovel, phone charger, map, a first aid kit, a warning triangle, some jump leads, a spade and a square of carpet that you can use to put under your drive wheels should you get stuck in the snow. If you are later into your pregnancy, take your hospital bag and notes with you on any journey…just in case!
The most important thing to take with you before driving in snow is a charged mobile phone with the phone number of your breakdown provider stored in it so you can always call for help.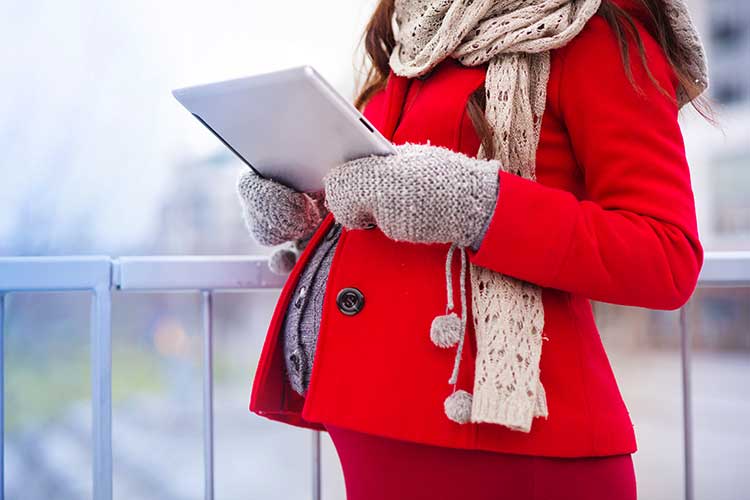 5. Keep Your Phone Charged! And Ask For Help
Extreme conditions such as snow and ice can affect power supply. By making sure your phone is fully charged you can reach out to ask for help if you need it and let everyone know you are safe. Don't be afraid to ask for help from your family, neighbors and community, everyone will want to make sure our pregnant mums are safe and healthy.