Supporting Our Patients During COVID-19 Outbreak
January 2021 Update
Following the latest Government announcement on Monday 4th January 2021 regarding the national lockdown, you must only attend an appointment for a medical reason. This can include the investigation of any symptoms or for reassurance regarding your pregnancy.
Window to the Womb clinics are allowed to remain open as we are registered as a medical service provider, both with each local council and the Care Quality Commission. In 2020 all of our scan services were confirmed as medical during a tribunal (court) judgement. Whilst we can currently offer all of our scan services, you must confirm that you are attending for a medical reason such as reassurance.
If your primary reason for attending is for gender confirmation or imaging of baby then you should not attend in a period of lockdown. Please contact your local clinic to rearrange your scan.
If you are attending for a medical reason your scan will continue as normal and we are able to continue to provide ancillary services such as gender confirmation or 4D imaging if this is included in your package. You do not need to contact us to confirm this; we know that our clients book a scan primarily to check on the development of their baby.
Rescans for ancillary services such as gender confirmation or 4D imaging cannot be offered at this time. We continue to work to all national guidelines and this may be subject to change at short notice.
Please note that anyone who attends any of our clinics is required to wear a face mask or face covering. This is to protect our customers, who because they are pregnant are classed as vulnerable, other visitors and our hard working clinic staff.
How are we managing the Coronavirus outbreak?
The coronavirus pandemic has fundamentally changed the way we all live our lives in order to keep everyone safe. Since the start of the outbreak, we have been working really hard to ensure we can continue to support our patients in the safest way possible and to limit the non-essential elements of our service offering.
All of our scans are completed by highly trained and registered healthcare professionals who are experts in obstetric ultrasound. We utilise the very latest generation of ultrasound equipment to ensure we can provide you with the most accurate diagnostic results.
Current Services Offered
*Please note, that these services may be dependent locally. Our teams are working in line with government guidelines to ensure we can resume our full services as safely as possible. Please contact your local clinic to enquire about the scans they're currently offering.
Should I attend a scan?
If you, or any member of your household, have developed any Coronavirus symptoms (such as a high temperature, a persistent cough, the loss of the sense of taste or smell, ) you must not attend your scan appointment. Please contact your local clinic to rearrange your appointment until after the transmission period (usually 10 days).
You should only attend a scan for a medical need such as reassurance. If your primary reason is to obtain baby images or gender confirmation, you should not attend in a time of lockdown. If your primary reason is for a medical reason, we can continue to confirm gender and provide 4D images if it is included in your package.
Infection control and PPE
We are working within Public Health England (PHE) guidelines by ensuring all of our scan rooms are deep cleaned between appointments. All of our staff have been provided with Personal Protective Equipment (PPE) and we are offering hand sanitiser and gloves to all of our patients upon arrival.
We have limited the number of clinic staff in the clinic at any one time to reduce the risk of transmission and to increase the distance between people in our clinics. It is important that patients attend their appointments on their own. You may bring one adult companion and we are unable to accept children in our clinics at this time. If this position changes your local clinic will contact you before your appointment by email/SMS. If you have any queries about this please speak directly to your local clinic.
How Many People Can I Bring?
Due to the increased lockdown measures, from Monday 5th October 2020 we are reducing the number of guests to 1 adult alongside mum.  If you have any questions we ask that you contact your local clinic directly.
Face Masks & Coverings
In line with Government guidelines, it is now compulsory to wear face coverings in small spaces. Everyone who attends a scan must come to their appointment with a face covering. This can be either a mask, a scarf or cloth face covering which covers both the mouth and nose allows you to breath comfortably.
Our pregnant customers are classified as vulnerable and we are duty bound to protect them from any risk of infection. We equally have a responsibility to protect our employees in the same way. If you believe that you cannot wear a mask or face covering your clinic may not be able to provide a service to you. In these circumstances please contact your chosen clinic prior to booking.
Arrival At The Clinic
On arrival at the clinic, we are asking all of our visitors to cooperate as we have introduced additional measures to further ensure that our clinics remain safe for all our patients and staff:
you will be asked about any symptoms that you, or anyone you have come into contact with, have experienced in the past two weeks.
we may check temperatures using a non-contact thermometer.
we will ask you to 'check-in' to the NHS Test & Trace system so please have the app on your phone.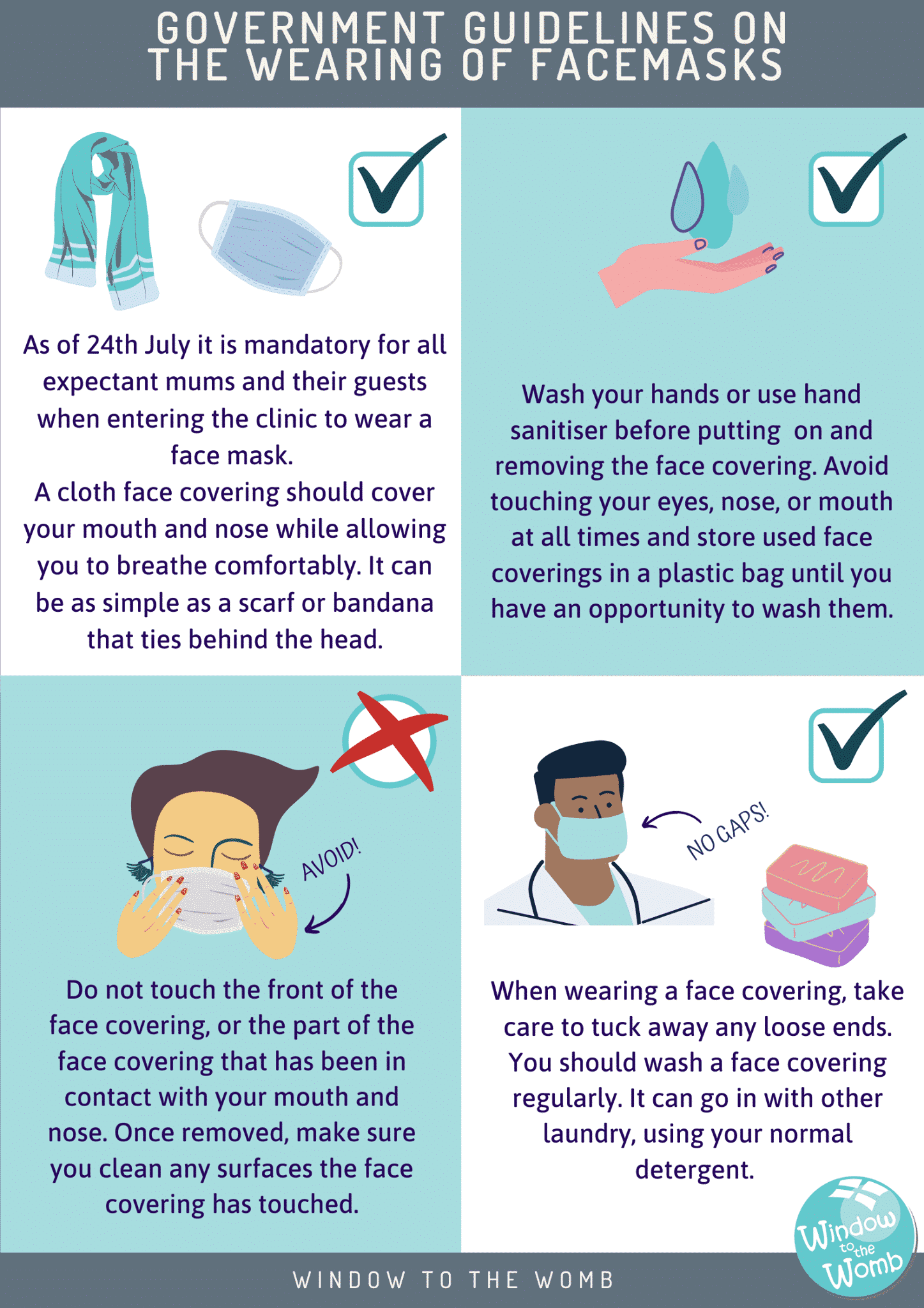 ---
Maternity Care in Hospital
The Royal College of Obstetricians and Gynaecologists (RCOG) have expressed the importance of continuing to receive antenatal care during the Coronavirus outbreak:
"It is really important that you continue to attend your scheduled routine care when you are well. If you have symptoms of possible coronavirus infection, you should contact your midwife to postpone routine visits until after the isolation period is over."
Additional Support
We are keeping the Care Quality Commission (CQC) updated with all changes during the outbreak.
We are continuing to follow the guidance from PHE and RCOG.
We are listed on the Crown Commercial Service (CCS) catalogue for Coronavirus suppliers to offer our support to the public sector.
We are working with a number (but not all) NHS trusts to adjust our referral pathways and adapt our services to best support trusts at a local level.