Find a Perfect Instagram Caption for Your Birth Announcement!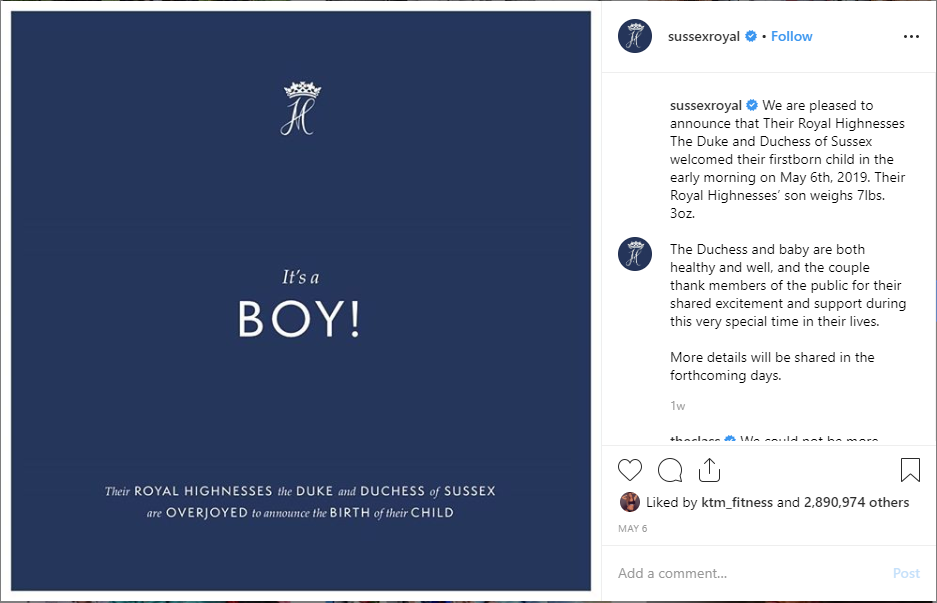 ---
At the moment all eyes are on the Royal family or should we say…all eyes are on the newest member of the royal family: Archie Harrison Mountbatten-Windsor.
Whilst literally the whole world is welcoming another little royal, Meghan and Harry used the arrival of their first-born son to yet again prove they are the most modern and rebel royals. How? With an official Instagram announcement, obviously! Alright, credit where credit is due, Buckingham Palace announced the birth first. But within seconds of that, the couple posted on their official Instagram to share the news of their son's arrival. In honour of the only royal Instagram Birth Announcements (so far, hopefully more will follow) – here are some of the best captions for birth announcement on Instagram, so you can give your little one a just as memorable introduction as Archie's.
Prince Harry makes official royal birth announcement
Basic Baby Announcements
Welcome to the world, (baby name)!
When two become three. Welcome our bundle of joy, (baby name)!
Hello World, I'm (baby name)!
Quotes for Baby Announcements
Babies are miracles that bring joy to our lives.
At one glance we loved you with a thousand hearts.
You are the symbol of the love we share, our every dream come true.
You are our happiness, our little boy/girl.
Funny Baby Announcements
It's time for dirty diapers, sleepless nights, and endless love. Welcome (baby name).
Look what the stork brought us.
There's a new boy/girl in town!
Adoption Baby Announcements
Not flesh of our flesh, nor bone of our bone,
but still miraculously our own.
In our hearts he/she was already our son/daughter.
We simply had to bring him/her home.
One gets only a day or two in an entire lifetime
as incredible as the day we first saw your face.
Baby Announcements for Multiples
Twice the love, twice the joy.
Double the trouble, double the fun.
Our life with twins has just begun!
Three times the diapers, three times the bottles, one-third the sleep.
Three times the smiles, three times the hugs, three times the love.